Email marketing has been around since the dawn of time. Okay, not exactly. But it is definitely one of the most tried and true forms of digital marketing, and because of this, it often gets undervalued by marketers. In their haste to chase "what's new" in marketing, they forget that email marketing is one of the most powerful tools for engaging customers, boosting retention, and growing a company's bottom line.
Across all industries, marketers can use email as a means of lead generation, nurturing new leads, converting them into customers, and driving ongoing engagement and evangelism with their customer base. 
Effective and regular email marketing keeps your business connected to its customers. This is critical when you consider that research shows the most common reason for losing customers is a lack of contact and relationship building. In fact, this accounts for 67% of customer attrition.

We all know customer retention is important, but did you know that just a 2% increase in retention can affect profits as much as cutting costs by 10%?
That said, it isn't as easy as clicking send to your entire database and then watching the business pour in. There are many pitfalls along the path to successful email campaigns. This guide will outline key steps to creating highly successful email marketing for your pest control business.
Selecting Email service providers
The first question you need to ask yourself is, how will I send my emails? Using your default email service (gmail, outlook, etc.) won't be the right tool for large scale email marketing campaigns.
To facilitate the volume of emails you'll need to send to be successful, you need a service provider that specializes in email marketing. These platforms have all the tools you need to send, track, and report on email campaigns.
In addition to these basic functions, many of these providers have also integrated AB testing features into their solutions as well, giving you the opportunity to consistently improve and optimize your campaigns.
Traditional ESPs
ConstantContact
One of the nice features within ConstantContact is that it comes with more than 100 prebaked templates that you can use out-of-the-box. You can also take these templates and customize them to your brand and specific use case, but this allows you to get started quickly and efficiently.
While they do have some basic AB testing functionality, it is limited to just testing subject lines.
iContact
There aren't many differentiating features of the iContact solution, but their customer service has been noted as standing out from competitors. Unlike many of the other options out there, your subscription comes with a strategic partner who will help you launch and optimize your campaigns.
iContact has the ability to AB test subject lines as well as the body of the email. This helps to optimize your campaigns for a number of different success metrics.
MailChimp
In addition to being one of the leading email providers for years, MailChimp also differentiates itself in the thought leadership they give the market. If you are looking for insights into email marketing, then definitely subscribe to the MailChimp blog
The platform comes with more sophisticated nurture tracks, multivariate testing, and advanced segmentation than some of the other solutions.
ActiveCampaign
This is another of the full-suite email marketing solutions on the market. Depending on the plan you select, ActiveCampaign has the features you need to launch full, sophisticated email marketing campaigns.
An added bonus of working with ActiveCampaign is that it comes with 500+ marketing automation recipes to get you started.
ESP + CRM
The ESPs listed above are several of the dozens of solid options available in the market today. However, one of the things that many of these platforms are missing is a direct, seamless integration into a CRM. This is a critical distinction because by integrating your business management software with your email marketing, you save hours of work every week through automation.

These benefits multiply when you look for a pest control CRM that includes email marketing functionality, like Briostack.
Briostack
Briostack is an all-in-one solution which means you get business management and email tools in one solution, avoiding the need for data integration between two different platforms.
When a new customer is entered into your Briostack CRM, they are synced directly into your email audience. This automation keeps your contact lists consistently updated and eliminates manual work for your team. You can also create automated emails to keep customers engaged at crucial stages, like failed billing notices, cancellation follow-ups, appointment reminders, and more.
With the Playbooks add-on, you even receive pre-written email campaign templates and
dashboards/reporting to help you easily measure ROI as well.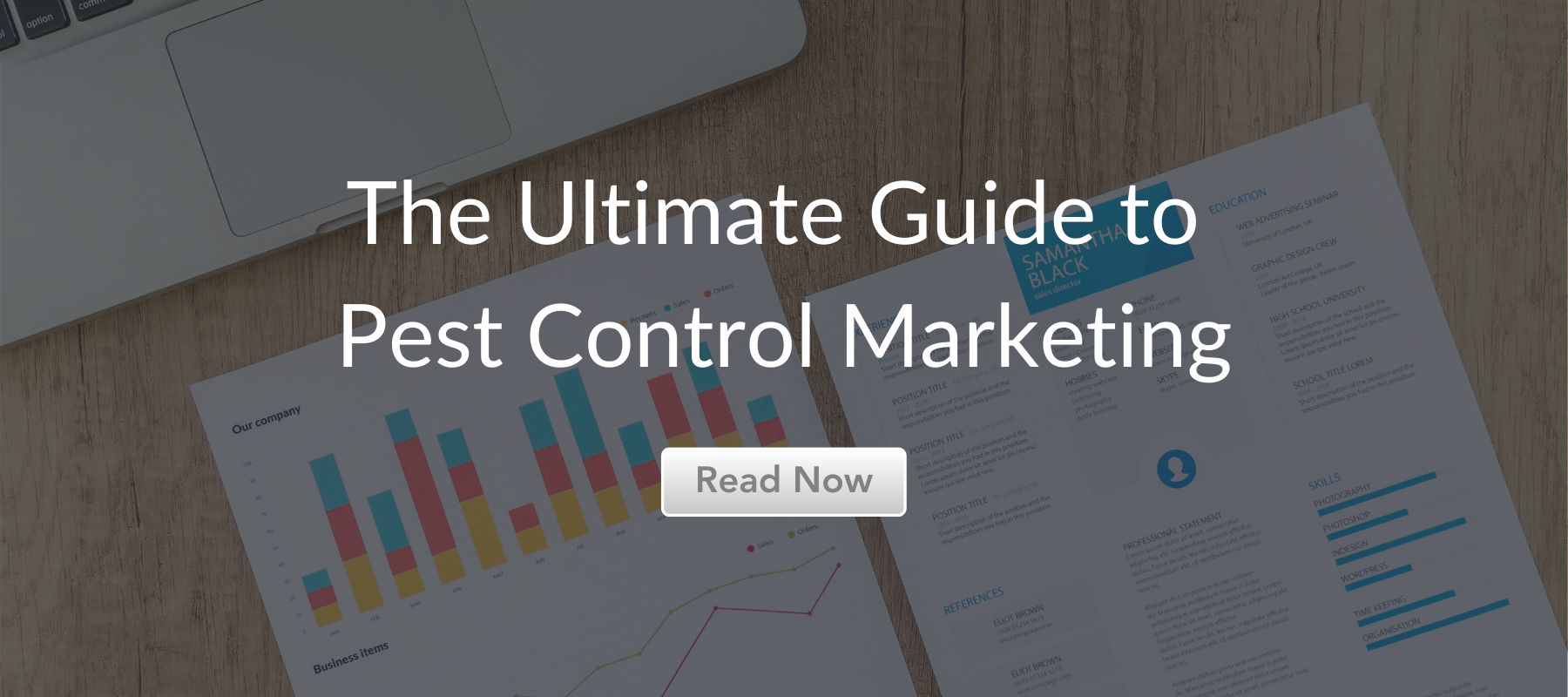 Email marketing success metrics
In order to launch an effective email marketing campaign, you need to know your goal and which metrics to track to see how close you are to achieving it. Here are some of the email marketing metrics that you should follow.
Deliverability rate:
This is the percentage of recipients that actually receive your email in their inbox. However, several problems can occur between clicking send and the email hitting your customer's inbox.
Goal: >95% deliverability rate. If your deliverability drops below 90%, you have a problem. A dropping deliverability rate indicates that an audit of your database is needed.
How to improve your deliverability rate:
Most ESPs or email marketing tools will break down undelivered messages into either hard bounces or soft bounces.
Soft bounces are temporary bounces that indicate the recipient's inbox was full or that there was an issue with their server which prevented them from receiving your message.
Hard bounces are more problematic and mean that either the email address is invalid or the recipient's email server has permanently blocked you from sending them messages.
The latter cause is more common with commercial accounts, as they will have specific security settings on their servers that may prevent your messages.
Audit your database for problematic emails to improve the overall health of your sends. This will also potentially reduce the amount you have to spend on your ESP subscription.
Open rate:
This is the percentage of recipients included in your email campaign who clicked to open the email.
Goal: Across most industries, a healthy open rate is between 15-20%. An open rate in this range indicates that your message resonates with your target audience.
How to improve your open rate:
Your subject lines most directly impact open rates. If you have a poor open rate, then a vague, over-salesy, or non-engaging subject line is likely the cause.
The strongest subject lines share common attributes. They promote urgency, generate curiosity, and are about a timely and relevant topic. Whether you write your own emails or partner with a marketing agency, make sure your subject lines include these factors.
Click rate:
clicked a link in your email. Click rate is calculated based on the total number of people who received the email, regardless of whether they opened it. It's important to note that this rate is different from the click-to-open rate, which uses only the number of recipients who actually opened the email to calculate its percentage.
Goal: 2.5% click rate. In most cases, the success of an email marketing campaign is contingent on the recipients clicking a link.
Are you trying to get new leads to schedule their first service with you? That requires a click. Are you trying to get your existing customers to fill out your NPS survey? That requires a click. You get the picture.
How to improve your click rate:
Similar to open rates being focused on the subject line, improving click rates requires you to look at the body of your email.
Every part of your email's body should work toward making your call to action —the step you want your customer to take after reading the email— as compelling as possible.

Your email should have a clean and concise design layout that draws the reader's attention to the call-to-action link or button. The call to action should be relevant to your email's audience. The email content should clearly explain the value the recipient will see by clicking on the included link.

Additionally, A/B testing your emails is a great way to learn what content topics and email marketing strategies resonate with your audience, so you can improve overall
Unsubscribe rate:
This is the percentage of recipients who clicked the unsubscribe button on your email (which you are legally required to include).
Goal: This rate represents the segment of your audience that wants you to stop talking to them, so you want to ensure that it stays as low as possible.
How to improve your unsubscribe rate:
The most important factor in avoiding sky-high unsubscribe rates is ensuring your email content is relevant to your audience. The last thing you want is for a customer to read your email and ask, "Why did I get this?" If you send pest control emails to five hundred renters who expect their landlords to handle pest management, you'll see your unsubscribe rate balloon out of control.

Next, make sure every email provides value to the reader. If your audience knows your emails offer helpful information and relevant updates, they won't mind seeing them in their inbox. But if every time you reach out, you knock them over the head with sales pitches, they will opt-out of future communication.

Lastly, finding the right cadence and frequency is vital to maintaining a connection with your audience. Make sure they are expecting to hear from you but that you don't overstay your welcome.
Personalize, personalize, personalize
An essential characteristic of a successful email marketing campaign is personalization. Something as simple as using the recipient's first name in the subject line can dramatically improve open rates.
However, there is a fine line between effectively using personalization and being creepy. You have a lot of information about your customers. Not all of is appropriate to use to personalize your emails.
Good personalization includes using the recipient's name, their address (if this is needed to verify service location), and information about their scheduled services.
| RELATED ARTICLE: The Quick Guide to Pest Control Invoices [Template]
Pest Control Email Marketing Templates
Now that you know how to define the success of your campaign, it's time to determine what emails you should send and when you should send them.

We've put together 10 pest control email marketing templates for you to use to get started with your campaigns.
Each template includes a prewritten email that follows marketing best practices and a suggestion of when to send it to your customers:
Free Quote Request Auto Response Email: Send this email immediately following a request for a quote from your website
Free Quote Request Follow-up (customer hasn't scheduled yet): Send this email a week after the original quote if the customer has not yet scheduled their initial service
Appointment Confirmation Email: Send this email anywhere from 3 – 7 days before a scheduled appointment
Post-service Feedback Request: Send this email immediately following all completed jobs
Billing/Invoice Email: Send this email once an invoice for a completed job is available
Billing Invoice Reminder Email: Send this email a week before an invoice is due as a reminder of the upcoming due date
NPS Survey Email: Send this email to established customers to request that they complete your NPS survey
NPS Survey Follow-up – Promoters (9-10): Send this email as a response to all customers who completed your NPS survey with a score of 9 or 10
NPS Survey Follow-up – Neutral (7-8): Send this email as a response to all customers who completed your NPS survey with a score of 7-8
NPS Survey Follow-up – Detractors (<=6): Send this email as a response to all customers who completed your NPS survey with a score of <=6
Fill out the form below to get instant access to the email templates in Briostack's Playbooks and start putting them to work engaging your customers:
Download 10 Free Pest Control Email Marketing Templates
"*" indicates required fields
Conclusion
There is a massive amount of potential business waiting to be earned by companies that effectively use email marketing. These tips will help you get started, but there's always room for improvement.

Creating and writing email marketing content is often a pain point for pest control operators. Even with marketing and email templates, generating content (not to mention segmenting your customer base) can be time-consuming and intimidating for pest control businesses without marketing expertise or dedicated resources. Relying on a marketing agency can also be daunting because they may not be as familiar with the industry's nuances.

That's what sets Briostack's Playbooks apart. This automated service takes the guesswork out of email marketing. Leveraging nearly 20 years of experience in pest control marketing, the Briostack team has created pre-written email campaigns tailored to your customers' needs. With Playbooks, you can select the specific emails you want to use, then set it and forget it. Briostack sends the emails automatically for you, simplifying the entire process.
Related Posts
The 10 Best Digital Marketing Agencies for Home Services Providers
Continue Reading